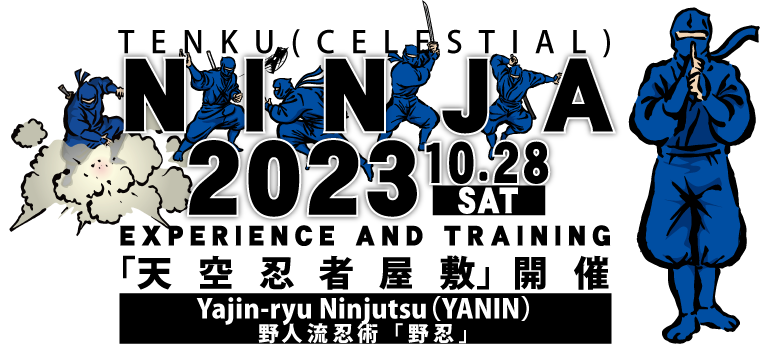 About Yajin-ninja
野人流忍術「野忍」ついて
野人流忍術(野忍)は、自然豊かな野外環境を活用した忍術修行プログラムです。 流派を超えて、現代社会で役立つ現実的な忍術を追及し、技だけではなく、根底に流れる「和の心」に触れ養います。

"Yajin-ryu Ninjutsu(YANIN)" is focused on a Shinobi (ninja) training program done outdoors in the nature. Useful techniques of Shinobi for the contemporary society are pursued regardless of schools(Ryuha). You can experience basic techniques of shinobi (ninja) in this program. Additionally, you may feel "Mind of 和(harmony)",that flows at the basis of japanese way of thinking.

野人流忍術「野忍」公式ホームページより引用
ABOUT Event
イベント概要
野人流忍術「野忍」自然を重んじる忍術修行プログラムです。 手裏剣などの体験を通じ忍びの技と心を学びます。

"Yajin-ryu Ninjutsu(YANIN)" This is a ninjutsu training program that respects nature. Through experiences such as throwing shuriken, we learn the skill and mind of perseverance.

イベント名称:天空忍者屋敷(主催:御岳山商店組合)
【開催日】10月28日(土)20時開演
【場所】鳥居前広場特設ステージ(雨天時はみたけ山ふれあいセンター)

参加費:無料

TENKU(CELESTIAL) Ninja Houses (Organized by Mitakesan Shop Association)
DATE: Saturday,October 28, 20: 00~
at the torii preliminary stage.
(If it rains, it will be held at Mitakesan Fureai Center gymnasium.)

Participation Fee: Free


MAP Mitakesan Fureai Center(gymnasium)
会場(御岳山ふれあいセンター)地図


★実施事項
10/28(土)20:00~
(内容)
忍者のセミナー:御岳山と忍者の関わりの歴史を簡単に説明
剣舞:忍者による格闘の実演
吹き矢や手裏剣の練習:場合によってはどちらかのみの場合があります

 
 


★Contents
Saturday,October 28, 20: 00~
Ninja Seminar: Briefly explain the history of Mitake Mountain and Ninja's involvement.
Swordsmanship: Demonstration of fighting by Ninja.
Practice of Blowguns and Shuriken: In some cases, there may be only one case.


How to apply
お申し込み方法
■宿坊に宿泊予約の時に申し込み
宿泊をご希望の方は、御岳山商店組合加盟商店・宿一覧 からご希望の宿坊へ宿泊予約行うときに、「天空忍者屋敷に参加希望」とお伝えください。


■When accommodation reservation 
If you wish to stay, please mention that you wish to participate in "TENKU(CELESTIAL) Ninja Houses" when making an accommodation reservation from your Mitakesan shop association affiliated store / accommodation list to your preferred lodging.


TRANSPORTATION
東京から御岳山までの鉄道の案内

「東京から御岳山までの鉄道の案内」
JR 東京駅 (中央線) → JR 立川駅 (青梅線) → JR 青梅駅 (奥多摩線) → JR 御嶽駅下車
徒歩1分--バス停「ケーブル下行き」→ 「ケーブル下」下車→ 徒歩1分--ケーブルカー滝本駅→ ケーブルカー御岳山駅下車--徒歩25分--鳥居前広場

Access to <Mitakesan> station:
(From JR Tokyo station, the trip will last about 3 hours. Notice there are limited number of local trains to Okutama, buses, and cable cars.)
↓ Take JR Chuo Line to Tachikawa Station. Change to JR Ome Line bound for <Ome>
↓ Change at Ome to a local train bound for <Okutama> Get off at <Mitake> station.
↓ Walk to a bus stop named <Mitake> and take a bus to <Cable shita> bus stop.
↓ Walk to <Takimoto> the cable car station to Mitakesan.
↓ Take the cable car to the mountain top, <Mitakesan>

ACCOMMODATION
宿泊施設のご案内
CONTACT
お問い合わせ
主催者:「御岳山商店組合」